Four Points Sihlcity Hotel ideally located in Zurich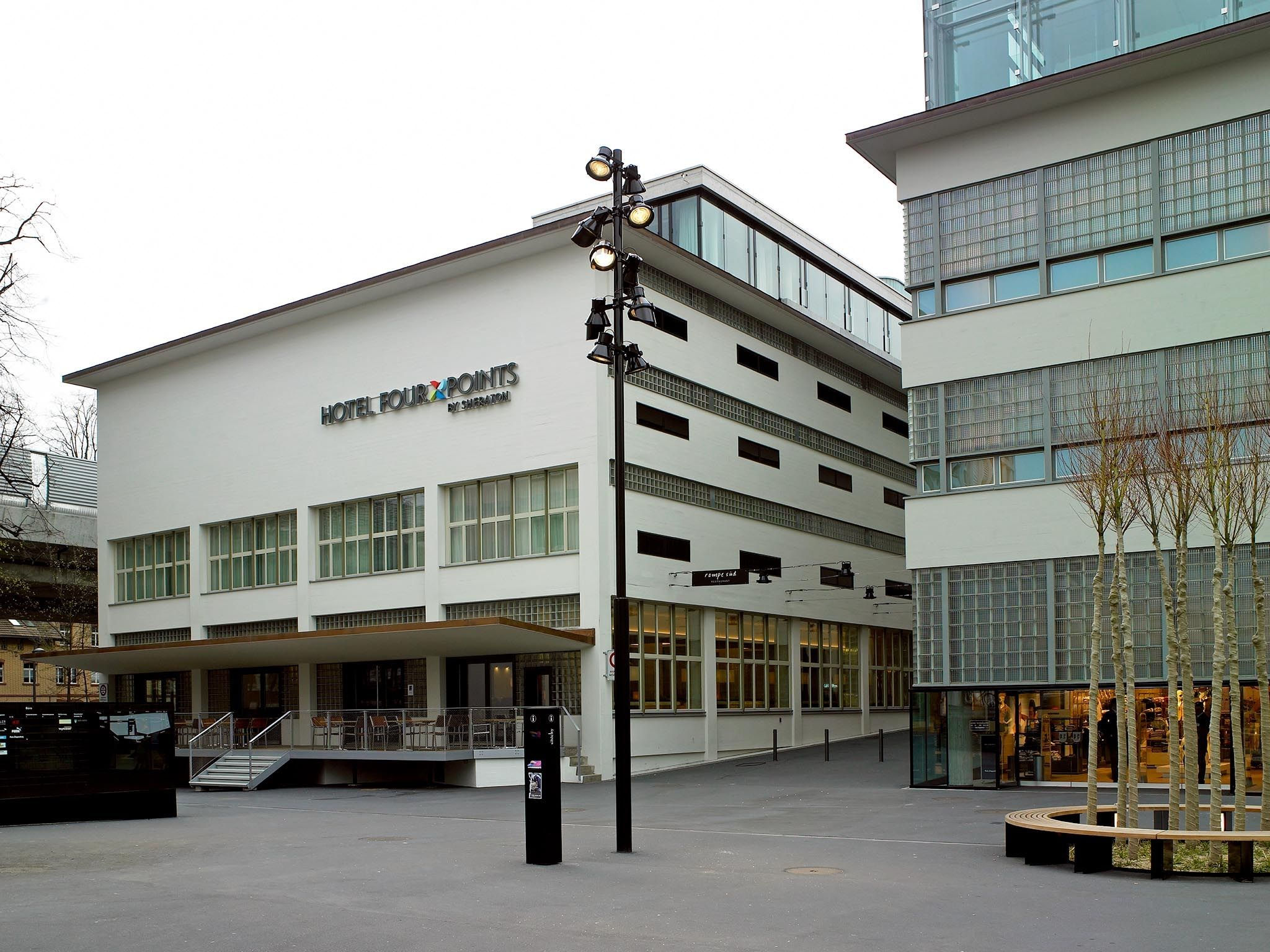 Four Points Hotel in Sihlcity
The location of our hotel in Zurich speaks for itself: in the centre of Zurich. From the hotel you can easily reach Zurich's most important sights on foot. The tourist destinations are conveniently accessible as well. Moreover, Lake Zurich is also located in the vicinity. It is, of course, not to be missed. All transport connections are convenient. You can quickly reach the airport from Zurich and the hotel via the nearby motorway.
In the immediate vicinity you will find a stop for the Zurich tram system, with which you can comfortably explore the city without a hitch. The train station is located nearby. In winter it offers excellent connections by train into the ski area. The Four Points by Sheraton Sihlcity Zurich Hotel is your ideal starting point for an all-round holiday in Zurich and its surroundings.
Arriving by car
If using a GPS navigation system, enter the hotel's address for the destination: Giesshuebelstrasse 4, 8045 Zurich
Coming from Chur or Austria
Take the A3 toward Zurich and exit at Brunau. Follow the signs for Sihlcity.
Coming from Zurich Airport or Germany
Take the A1 toward Zurich. In Zurich follow the signs toward Chur, A3. Take the parallel street to the A3/E41 toward Albisgüetli. Drive roughly 250 metres farther to the hotel. Follow the signs for Sihlcity.
Coming from Lucerne or Italy
Take the A2 and then the A4 toward Zurich. Continue on the E41 to the Brunau exit. Take the west bypass, the A4, through the Üetliberg Tunnel. Follow the signs for Sihlcity.
Arriving by train & plane
Arriving by train
Take the S-Bahn (city train) number 4 (S4), which will take you directly to the hotel. Take the S4 toward "Langnau-Gattikon" or "Sihlwald" from platform 21. Alight at the "Saalsporthalle" stop. The journey takes approximately 7 minutes. Follow the signs for the "Sihlcity" shopping centre to Kalandergasse 1 and within two minutes we will welcome you at the Four Points by Sheraton Sihlcity!
Arriving by plane
In 2007 the World Travel Awards named Zurich Airport Europe's Leading Airport for the fourth time in a row. Gateway to the European Alps, Zurich Airport offers you the best service - with access to 120 destinations, a quick route to the city centre and convenient connections to all Swiss cities and bordering foreign countries.
Distances to selected destinations in Zurich
To the nearest metro/city train: 0.01 km
To the nearest taxi rank: 0.01 km
To the nearest main train station: 1.7 km
To the nearest motorway: 0.45 km
To the nearest airport: 14.4 km
To the trade fair grounds: 9 km
To the UBS company branch: 2.2 km
To the Credit Suisse company branch: 20 m
To the Philips company branch: 2 km
To the Samsung company branch: 0.8 km
To the Google company branch: 0.9 km
To the Ernst & Young company branch: 0.9 km
To the Axis Re company branch: 1 km
To the Swiss Re company branch: 2 km
To the Bayer company branch: 0.8 km